Please don't mind the dust! This site is updated often as new events and topics come up – don't forget to bookmark the page! Thanks for stopping by!
Welcome! We're glad you stopped by!
Lotus Fire Wellness & Empowerment is dedicated to serving the local alternative, spiritual, and holistic communities – raising awareness of the many walks of life as well as providing holistic healing services! Follow us on Facebook and/or bookmark this site for future updates! Lotus Fire Wellness is dedicated to assisting people in enjoying fuller, healthier lives. The goal is to shed light on misconceptions based on social stigmas and to raise awareness of all walks of life through education, acceptance, and compassion. We are bringing together the community through various avenues to promote cohesion and understanding of each other, as well as providing information for services that may assist in the growth and well-being of each individual.
Lotus Fire Wellness seeks to promote personal growth, shifting perspectives and enhancing compassion while building communities of understanding and tolerance.
As we face the challenges of social distancing has on building community, new avenues for contact and learning from each other will be available. Stay tuned!!
---
Feel free to grab a cup of coffee, relax, and peruse our pages for information on holistic and alternative learning opportunities from local teachers and practitioners!
---
Products & Services

lotusfirewellness@yahoo.com                 785-223-2383 (text is preferred)
---
Reiki services
Would you like to feel balanced and more at peace with yourself? Learn how to listen to your Self and balance your needs with Reiki. Reiki is the healing aspect of universal energy, channeled to assist the body in becoming balanced and healthy by aligning the body's ki (life force) to promote emotional, energetic, and spiritual balance. Mandy (Miria) received her certification in the Usui Reiki Ryoho system in January 2011. She enjoys facilitating learning experiences and passing on tools for healthier living.
Click here for more information for services and classes!
---
Ministerial Services
Mandy (Miria) was ordained through the Universal Life Church in July 2019, and is currently taking appointments for ministerial services. She will also be working toward a degree and ordination with a metaphysical college during 2020! If you are hosting a ceremony soon and are looking for an officiant, send a message and we'll see what we can put together!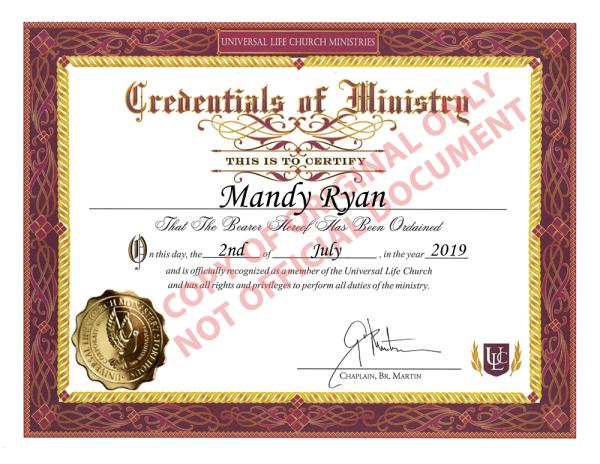 ---
Empowerment Workshops
The Lotus Fire Empowerment Circle is an open spiritual and empowerment support circle for people of any path looking for fellowship, fun, and spiritual support in a safe and nurturing environment! The Empowerment Circle meets on the 1st and 3rd Wednesday of each month – not including holidays. Lotus Fire consists of round table discussions on different topics for personal growth, empowerment, and development, as well as learning ways to connect with our Selves through energy work and meditation. We will also learn practical application for energy movement, how to set intentions, learn what manifestation 'looks' like, and many other topics! For more details, visit the Local Classes and Events page!
---
Miria's Knots & More

Facebook                       miriasknots@yahoo.com
Miria's Knots & More is excited to offer handmade tools for meditation, mindfulness, and play!! Check our Facebook page often to see our new offerings!
---
Mandy (Miria) is a dedicated member of the alternative and spiritual communities in the Central Kansas area. Mandy is a healer, facilitator, and life-long learner. She started her path in alternative practices and healing in 2009 and has since obtained her Reiki Master certification in the Usui Reiki Ryoho system, coordinated several metaphysical fairs, facilitates learning-for-all workshops twice a month for mindfulness and spiritual growth, and became ordained through the Universal Life Church in July 2019.
She enjoys facilitating learning experiences and passing on tools for healthier living. Her goal in life is to learn as much as she can about as much as possible, and to assist others in gaining new perspectives and learning about their paths as well.
---
Marian joined Lotus Fire in April 2020! Join me in welcoming our newest member!!
"Hi everyone! My name is Marian and I am finishing up my undergrad in Psychology at Kansas State University. I am planning on taking a gap year to focus on myself and to do things that resonate with me before applying to get my Master's degree in counseling. I've been thinking about pursuing hypnotherapy but my options are still open. I've been looking to find a work environment and a community of people who share my interests in spirituality, personal growth, and alternative thinking and I happened to come across the Lotus Fire website! After attending one of the Zoom sessions, I immediately knew in my gut that I had found the community I was looking for. I'm so excited to start my journey here and to get to know the people in this amazing community!"
---
If you would like more information on the many offerings available through Lotus Fire Wellness & Empowerment; to join the mailing list for upcoming events; are interested in a Reiki session or class, ministerial services, empowerment workshops; and/or would like to obtain a handmade item for your mindfulness or mediation practice – please send an email or text. Thank you for your interest!
*785-223-2383                              *lotusfirewellness@yahoo.com
---
Copyright Lotus Fire Wellness & Empowerment – All rights reserved